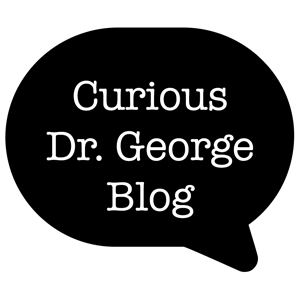 All-Clear Follow-Up: Hydrogen Peroxide Appears to Treat Oral and Skin Lesions
In 2020, writer Ronald Piana shared with our readers his own experience of using hydrogen peroxide to quickly eradicate a clinically diagnosed pre-malignant oral leukoplakia—a condition that can develop into oral cancer. Here, Curious Dr. George follows up with him and hears an additional perspective from retired urologic surgeon Bert Vorstman, MD, MS, FAAP, FRACS, FACS.
Curious Dr. George: About 2 years have passed since you shared your story.  Has the lesion reappeared or does it remain "disappeared"?
Ronald Piana: As noted in my 2020 Curious Dr. George post, in 2018 I presented to my dentist with a raised 3-cm lesion on the lateral border of my tongue, where most cases of squamous cell carcinoma (SCC) occur. After treating the lesion with four separate topical applications of high-concentration H2O2 (hydrogen peroxide), it disappeared. To date, there has been no recurrence, which indicates that direct-contact application of high-concentration H2O2 had sufficient cell-kill penetration to "cure" the premalignant lesion.
Curious Dr. George: Have you learned of any other people who have tried the peroxide treatment for similar lesions? If so, what are the results?
Ronald Piana: Since the publication of the 2020 blog post, I have received several emails from people around the country seeking advice on treating suspicious lesions with high-concentration H2O2. All, except for one, have been oral lesions similar to the one I presented in the original blog post. Every oral lesion was treated successfully, and on follow-up emails 6-months post treatment, there has been no recurrence.
I would like to introduce to you Bert Vorstman, MD, MS, FAAP, FRACS, FACS, a retired urologic surgeon in Coral Springs, Florida, who has offered to share a case history of the exception, which involved squamous cell carcinomas of the face and leg.
Bert Vorstman, MD, MS, FAAP, FRACS, FACS: Some months ago, I happened on the Curious Dr. George blog post about Ronald Piana's experience with the treatment of a suspicious tongue growth with high-concentrate hydrogen peroxide—a simple over the counter application that cured his precancerous lesion.
As a physician and outdoorsman, I was intrigued by this easy self-treatment as I had been visiting the dermatologist for years to have various squamous cell cancers burnt off with liquid nitrogen, an uncomfortable and costly procedure. Superficial skin cancers and precancers consistently recur, a reason why dermatologists have you coming back for office visits every few months or so for a check and burn, and maybe a biopsy or two for good measure.
I decided to try the treatment and purchased a bottle of food-grade 33 percent H2O2. I used a dropper to soak a Q-tip with H2O2 and applied it to a squamous cell cancer on the right side of my face. After 10 to 15 seconds, I could feel some tingling and mild discomfort. After 30 seconds or so I could see that the area in question had turned a speckled white. The tingling and mild discomfort soon settled. I applied the peroxide morning and evening for 2 to 3 days and stopped. Within a few days there was no sign of the lesion.
In between dermatology visits I noticed the development of another typical skin cancer on my right lower cheek; red, scaly and sensitive. I used the H2O2 treatment, and the skin cancer disappeared.  After this success, I became concerned about a small spot on the right side of my nose and one on the outer part of my left lower leg. Both of these areas received the same treatment as I had done to my face. These areas also disappeared. And, three months later when I returned to the dermatologist. I didn't tell her about the areas I had treated but she could not find any areas of concern. Periodic self-examination and self-treatment with 33 percent H2O2 was a lot easier, more convenient, and much less costly than visiting the skin doctor. This process also eliminates the long waiting time to get a referral and convenient appointment, which can also prevent treatment delay and potential disease progression.
Moreover, simple H2O2 treatment can obviate the potential for Mohs surgery, an expensive procedure that can result in surgical defect requiring a plastic surgeon to undertake a complex closure to fully reconstruct the surgical site. The self-diagnosis and self-treatment of superficial squamous cell cancers with food strength hydrogen peroxide is easy, convenient and cheap.
Ronald Piana: The cytotoxic potency of H2O2 is well documented; however, its clinical value in cancer treatment has largely remained overlooked. In the report by Mundi, et al, the authors offered several hypotheses about the mechanism of action by which H2O2 eradicated squamous cell carcinomas. It is beyond the scope of this post to delve at length into those complex biochemical processes. However, my research of the literature concerning the cytotoxic properties of H2O2 has found a scientifically sound hypothesis based on the cancer cell's own inherent weakness. Studies have shown that all but one human cancer cell type, a human renal adenocarcinoma, have low levels of catalase, thus, the vast majority of cancer cells lack the biochemical machinery needed to detoxify higher fluxes of H2O2.
More important, lysosomes (aka "suicide bags") do not contain hydrogen-peroxide-degrading enzymes, such as catalase or glutathione peroxidase. During oxidative stress, large amounts of hydrogen peroxide enter the lysosomal compartment, with the formation of abundant hydroxyl radicals, or highly reactive iron-centered radicals, destabilizing the lysosome to the point of rupture, leading to cell death. In short, H2O2 is a proven Trojan Horse compound that permeates the cancer cell and induces a cascade of suicidal events. This post argues that given its enormous anticancer potential, H2O2 therapy deserves further testing so that it can be integrated into appropriate clinical settings.
Ronald Piana can be reached at ron.piana@gmail.com.
https://lundberginstitute.org/wp-content/uploads/2018/01/cdg-speech-bubble-trimmed-300-1.png
300
300
melindaroberts
https://lundberginstitute.org/wp-content/uploads/2020/08/Artboard-1.png
melindaroberts
2022-12-30 11:36:24
2023-02-09 11:38:18
All-Clear Follow-Up: Hydrogen Peroxide Appears to Treat Oral and Skin Lesions